Full Filter Press Refurbishment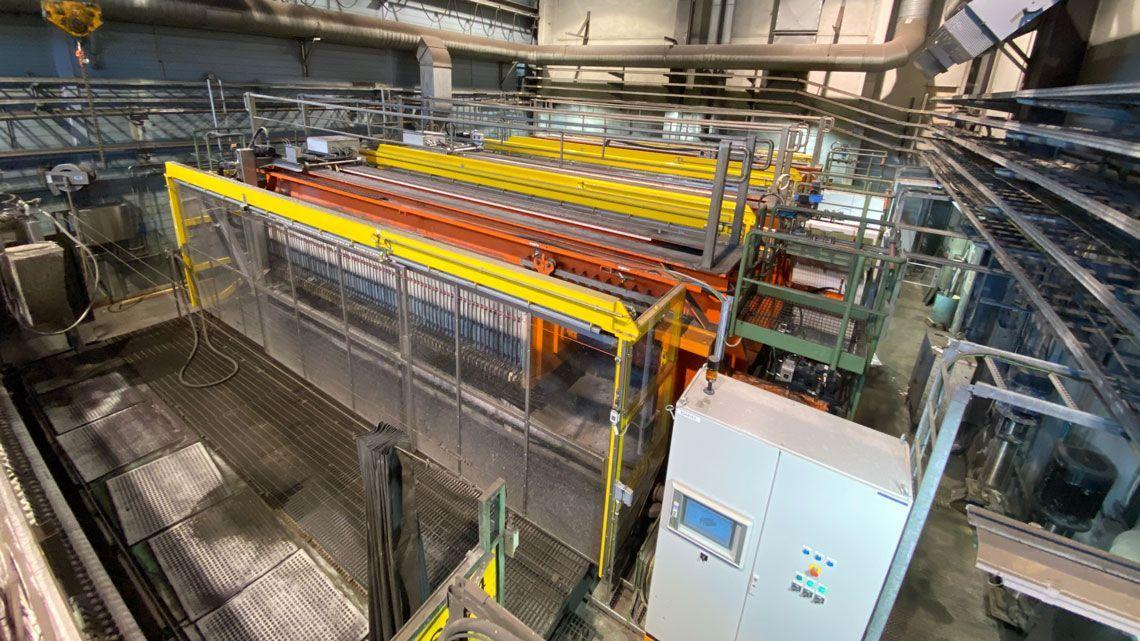 Boliden's zinc smelter in Kokkola, Finland, is the second largest in Europe. More than 20 filters are used for zinc filtration and four of them needed to be checked, refurbished, and upgraded to meet the nowadays operation and safety requirements.
Customer & application: Boliden Kokkola, Zinc production
Task: Modernisation and safety upgrade of four horizontal filter presses, type Novatek MKAF1200
Results: Extended reliable filter press operation and high capacity with improved safety.
Boliden Goes for Maximum Safety and Improved Performance
The four horizontal press filters have been in operation since 1997. To keep them in top shape and as safe as possible, Boliden Kokkola) decided to modernise them. The filter type is Novatek MKAF1200. Since Novatek was acquired by Roxia, Roxia is providing all filter-related services to all users of Novatek filters. New filter presses of the same type are nowadays known as Roxia Filter Presses (FP).
"For us, it made the most sense to give the modernization of old filters to a company who has the knowledge of the equipment," explains Juha Hakala, Mechanical Maintenance Manager, Boliden Kokkola.
Filter Refurbishment Phase
Roxia handled planning, resourcing, and scheduling for the refurbishment of all four filters and proved to be a trustworthy partner also when it comes to filtration. "Installation and commissioning have gone as planned on all filters and did not have any significant impacts to the ongoing filtration process," states Janne Korkiakangas, Project Engineer, Boliden Kokkola. The filters were refurbished according to the customer's wishes: one after another, starting in May 2020 and finishing in October 2021.
The upgrade included the following key components:
Replacing safety curtains with transparent sliding doors including safety interlocks.

Mild steel plate hangers were replaced with stainless steel.
Replacing automation system with new Siemens automation with modern safety features.
Installation of improved plate shifter and cloth washing device.
New pneumatic control cabinets for valves.
Entire refurbishment of hydraulic cylinders.
As planned, refurbishment of each filter press took about two weeks. "Actually, three filter presses were refurbished faster than the first one. As with any project, there were some challenges in the installation phase, but nothing that could not have been resolved along the way. We did our best to finish the project as planned, causing no delays to Boliden Kokkola," adds Petri Viskari, Project Manager, Roxia. Planning, resourcing, and scheduling have worked smoothly and cooperation during the project was flexible.
Safety Improvements
Because the filter presses date back to 1997, customer's requirement was to revise safety features and update them to today's safety standards. After careful safety review, Roxia suggested to improve the perimeter safety and new industrial automation system.
An important safety improvement was new control system. The old system was outdated and needed to be replaced. Earlier, only a single component failure could have stopped the whole filter, because some parts are simply no longer available.
The new Siemens automation system is more reliable, has better user interface, improved safety features offering better plant field automation and all components are easily available. Since 1997, the technology has rapidly developed and among the rest, brought safety improvements which are nowadays standard in such systems. Overall, Roxia delivered a complete modern automation solution including hardware, instrumentation, and software.
Perimeter Protection for Better Operator's Safety
Another important safety feature was newly installed perimeter protection. It replaced old safety curtains with safety interlocked doors that prevent access to the possibly hazardous areas during the filter's operation. When any of the doors open, the filter automatically stops. At the same time, it still allows enough room for safe maintenance and operator can see filter operation through transparent doors.
After revised and upgraded safety features, they protect the operators and the filters from failures and unintended misuse.
Our Customer: Boliden Kokkola
Boliden's smelter Kokkola, located on the west-coast of Finland, is the second largest zinc smelter in Europe and the largest industrial employer in Kokkola.
The total amount of zinc products in the portfolio is about 40, containing both pure zinc and tailored products for certain customers and customer segments. Zinc is used in cars, bridges, batteries, light poles, construction – in everything that our modern lifestyle requires.