Aeration Turned Smart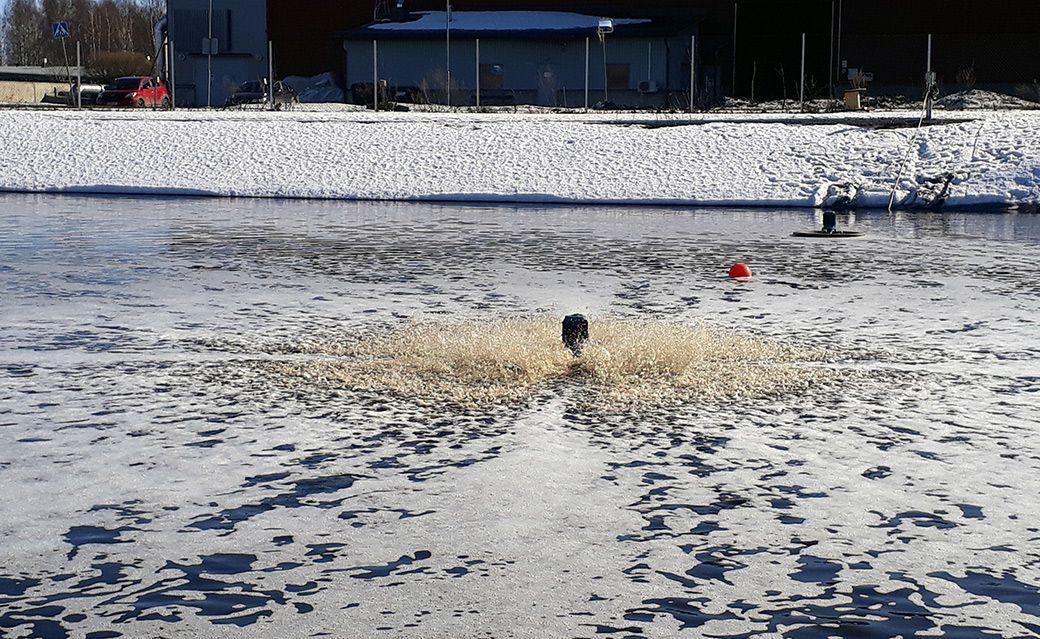 Waste management company had a problem with disturbing odour and wintertime freezing of the equalization basin. Roxia delivered and installed a Smart Aeration System.
The aerators are enhanced with advanced automation for optimized performance control and monitoring. Since the installation, the odour has disappeared and basin stays ice-free during cold Finnish winters.
Customer: EKJH Waste Management Company
Products: Five 1,5 kW Roxia Floating Aerators
Application: Water aeration in the equalization basin
Solution for bad odour
The customer had good previous experience with Roxia's design and installation of a new smart automation system for the pumping station. Next, looking to reduce the odour and improve the state of the equalization basin, they again reached out to Roxia. As a solution, Roxia recommended and later implemented a Smart Aeration System. It consists of five 1,5 kW Roxia Floating Aerators, located in the equalization basin. Since the commissioning of the Smart Aeration System, the odour problems have virtually disappeared. The basin stays ice-free through the winter. Adding oxygen to the equalization basin has also improved the discharged water quality.
Automated cleaning cycles
Roxia Floating Aerators are integrated into the automation system. Their operation is automated based on ambient temperature measurement. The system also includes an automatic cleaning cycle where the impeller rotation direction is reversed periodically. Online access to live-view Via Roxia Malibu™ portal, plant staff can remotely access real-time information about aerators' performance with any device with internet connection (e.g. smart phone, laptop). The online view replicates the real environment through a 3D model of the actual plant, which makes it easy for anyone to read the data without prior training. Monitoring of the operation and condition of the aerators is faster and easier than ever.
Our Customer: EKJH Waste Management Company
EKJH Waste Management Company is located in Lappeenranta, Finland. It is responsible for recycling and utilizing the wastes from 9 surrounding municipalities. In the waste handling facilities landfill leachate is collected in an equalization basin before being pumped to the local municipal wastewater treatment plant.